Donate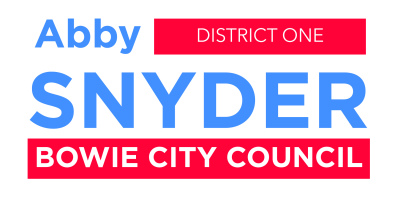 Help me make Bowie better by:


 - Bringing new jobs through economic growth
 - Promoting an Arts District in Old Bowie
 - Strengthening neighborhoods with safer streets, well lit intersections, & clearly marked crosswalks
​

My family has lived in Bowie for over 20 years, and I am a proud graduate of Bowie High School. After going on to graduate from Towson University, I returned to be engaged in the community I love to call home - Bowie. I am a DC commuter working in the field of Intellectual Property, and enjoy coaching figure skating.

Abby Snyder has lived in Bowie her whole life. She is committed to bringing together our entire

community to Make Bowie Better! 



Take a look at the Citizen Participation section of the October 7, 2019 City Council meeting to see Abby's position on serving the residents of the City of Bowie.​
https://youtu.be/EnmMR-SgUgY
Make Bowie Better (Click to Download)
There truly are not words to thank all of you for your support over the past few months. I went into this campaign blind but with passion, and walked out 3 months later with 1/3 of District 1 in my corner. It is an amazing accomplishment, but something I could have never done on my own. Your support, words of encouragement, donations, canvassing, electioneering, tissues when I was crying, and pride in my fight to win the City Council seat are what kept me going each time I thought I might not really be cut out for the race. ​​​​​


The final results:
    Abigail F. Snyder — 785

    Michael Esteve — 1,659
​


As tough as this loss is, a friend reminded me that of that saying "lost the battle, but won the war." I like to think of this outcome that way. Now...off to win that war!

With appreciation and gratitude, 
~Abby
​